Nando Parrado: leader of the miracle in Los Andes
Nando Parrado is the leader of the famous plane crash survival story in the Andes mountains in 1972. He is a successful businessman, sportsman and television producer. Nando is also an internationally renowned speaker who unlocks potential and excellence in the workplace and everyday life. In 2010, he was selected as "Best Speaker in the World" by the World Business Forum (New York).
Nando Parrado began to speak about his experiences in the Andes in 1992, when he was invited to address the Young President's Organization. After speaking to several multi-national companies, he transformed himself into one of the most unique speakers in the world. He has spoken to audiences in the United States, Latin America, Europe, Asia, and Australia.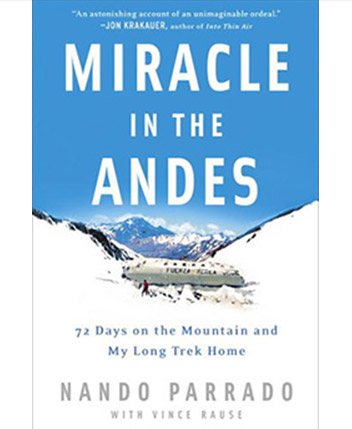 In October 1972, a plane carrying a Uruguayan rugby team crashed in the Andes. Not immediately rescued, the survivors turned to cannibalism to survive, and were saved after 72 days. Survivor, and rugby team member Nando Parrado has written a beautiful story of friendship, tragedy and perseverance. In the Andes, with a fractured skull, eating the flesh of his teammates and friends, Parrado calmly ponders the cruelties of fate, the power of the natural world and the possibility of continued existence in his book, Miracle in the Andes.
"After finishing his conference for CNN at Dana Point California, something very moving happened. A warm long standing ovation happened after the conclusion of the conference and a second never ending one after the Q&A session. But, the most incredible honor for Nando Parrado, was that at the exit of the Ball Room of the St. Regis Hotel, the whole AV crew was standing in formation and clapping with reverence. The Director of the AV team said to Nando: " We have done hundreds of AV work for some of the most important companies in the world, for the last twenty years. This is the first time that my whole AV crew, without any previous plan, stood and clapped in awe for a speaker…I have never have seen or heard that happening before in our industry.""
"Nando's presentation on his life experiences was one of the best I have heard in my career with EY In providing a griping overview of his story and the impact on his life, he humanizes the experience with everyone in the audience while highlighting key life lessons such as the importance of teamwork, gut wrenching decision-making, and, perhaps most importantly, the need to focus on the most important things in life". Buenos Aires 12.02 .2020
Nando is probably the best speaker in the world at this time. His value for the company, event or audiences is legendary. The take away value of his conferences, his commitment as a professional and his charisma, are way beyond what a speaker gives… incredible…!.