Nando Parrado: lider del "MIlagro en Los Andes"
Nando Parrado es el líder entre los Supervivientes del accidente aéreo ocurrido en las montañas de los Andes en octubre de 1972. Él es un prestigioso hombre de negocios, deportista y productor de programas de televisión. Nando es también un disertante y orador reconocido internacionalmente, quien desarrolló estrategias para desbloquear el potencial de las personas y procurar la excelencia en sus trabajos y en la vida diaria. En 2010 fue seleccionado como el «Mejor orador en el mundo» por el World Business Forum (Nueva York).
Esta película es una de los proyectos más importandes y ambicosos de lengua española a ser estrenado en 2023.
El film esta inspirado en el libro La Sociedad de la Nieve, escrito por Pablo Vierci y está dirigido por destacado director J.A. Bayona.
Bayona ha comentado que fue durante el proceso de documentación para el rodaje de "Lo Imposible",  que descurbió la fascinante crónica de la tragedia de los Andes escrita por Vierci. Y, más de diez años después, mi fascinación por la historio sigue intacta y estoy feliz de haber enfrentado el desafío de contar uno de los hechos más recordados del siglo XX. Incluso, con toda la complejidad que implica una historia que da tanta relevancia a los sobrevivientes como a aquellos que nunca volvieron de las montañas.
Nando Parrado comenzó a hablar sobre su experiencia en los Andes en el año 1992, invitado por la YPO (Young President's Organization), y luego fue citado por varias empresas multinacionales, transformándose en uno de los oradores más importantes a nivel mundial, con conferencias en Estados Unidos, América Latina, Europa, Asia, y Australia.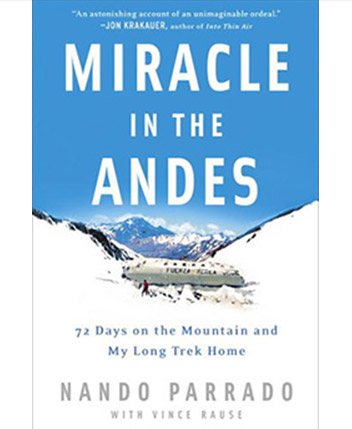 En octubre de 1972, Nando y sus compañeros de equipo, viajaban Chile para participar en una exhibición internacional de rugby, pero su vuelo jamás llegó a su destino, estrellándose trágicamente en la Cordillera de los Andes – a 4.000 metros de altura. Not immediately rescued, the survivors turned to cannibalism to survive, and were saved after 72 days. Survivor, and rugby team member Nando Parrado has written a beautiful story of friendship, tragedy and perseverance. In the Andes, with a fractured skull, eating the flesh of his teammates and friends, Parrado calmly ponders the cruelties of fate, the power of the natural world and the possibility of continued existence in his book, Miracle in the Andes.
"After finishing his conference for CNN at Dana Point California, something very moving happened. A warm long standing ovation happened after the conclusion of the conference and a second never ending one after the Q&A session. But, the most incredible honor for Nando Parrado, was that at the exit of the Ball Room of the St. Regis Hotel, the whole AV crew was standing in formation and clapping with reverence. The Director of the AV team said to Nando: " We have done hundreds of AV work for some of the most important companies in the world, for the last twenty years. This is the first time that my whole AV crew, without any previous plan, stood and clapped in awe for a speaker…I have never have seen or heard that happening before in our industry.""
"Nando's presentation on his life experiences was one of the best I have heard in my career with EY In providing a griping overview of his story and the impact on his life, he humanizes the experience with everyone in the audience while highlighting key life lessons such as the importance of teamwork, gut wrenching decision-making, and, perhaps most importantly, the need to focus on the most important things in life". Buenos Aires 12.02 .2020
Nando is probably the best speaker in the world at this time. His value for the company, event or audiences is legendary. The take away value of his conferences, his commitment as a professional and his charisma, are way beyond what a speaker gives… incredible…!.